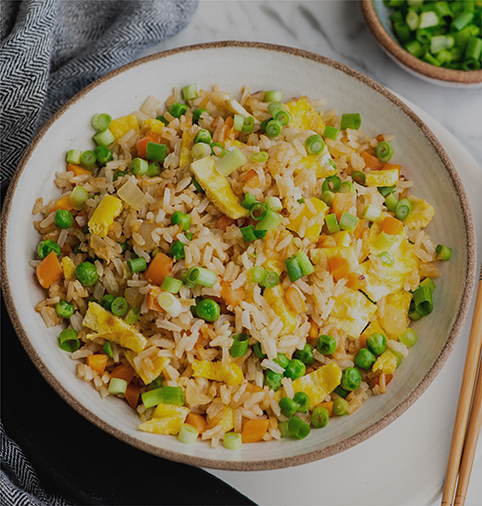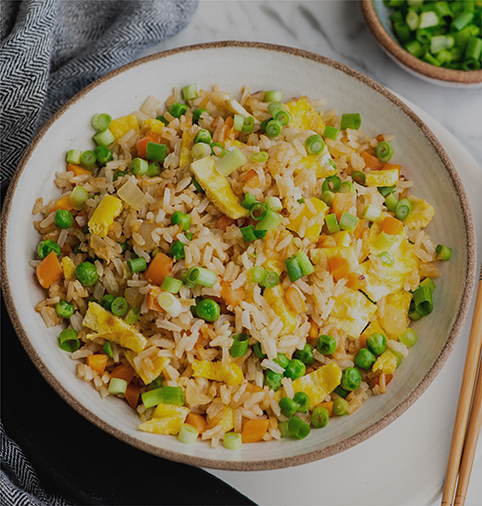 Fried Rice Recipe
Ingredients:
3 tbsp. sesame oil
3 cloves garlic (minced)
3/4 cup frozen peas
3 large eggs
Kosher salt
2 carrots (diced)
3 green onions (thinly sliced)
1 tbsp. ginger (peeled and minced)
3 tbsp. low sodium soy sauce
4 cup cooked long-grain 921 Classic XXL Basmati rice.
Instructions:
Add 1 tbsp. oil to the heated pan.
Beat the eggs with 2 tsp. of water and two pinches of salt. Pour the mixture into the pan and cook to form large soft curds for about 30 seconds.
Transfer it to a plate.
Add 2 tbsp. oil, carrots, and onions in the same pan. Cook until it turns golden.
Add ginger and garlic and cook while stirring, until fragrant, for about 1 minute.
Add rice, cooked eggs, and peas to the pan. Now, pour in soy sauce and cook, stirring for 1 minute.
Season with salt and pepper and enjoy your delicious fried rice.